December 31, 2017
Breakthrough into 2018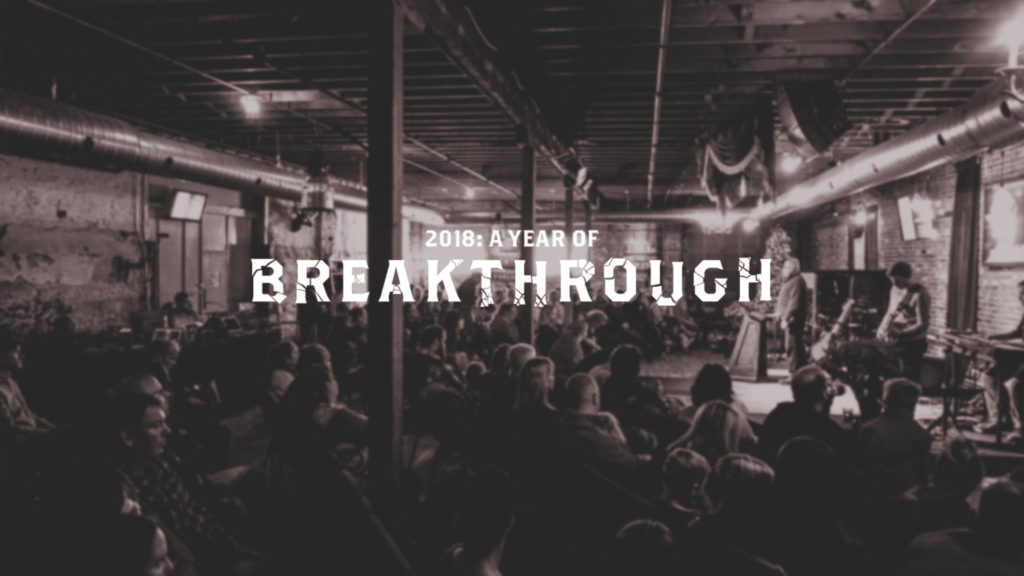 God wants a Breakthrough for you in 2018!
The ghosts of yesterday have chased you right up to the edge of a steep and very high cliff. Now you have a choice to make. You can either turn around and run back the way you came – continuing to let the ghosts pursue you into the next season…or you can do the very scary thing. It may be the hardest decision of your life – facing down the fears of "what if". But you DO have a choice. Will you turn back and continue to allow the past to pursue you – or will you jump? The fear is real…but so is the opportunity. Praying you and I will have courage to catch the wind in 2018!
Luke 2:21-31 (NIV)

21 On the eighth day, when it was time to circumcise the child, he was named Jesus, the name the angel had given him before he was conceived.

22 When the time came for the purification rites required by the Law of Moses, Joseph and Mary took him to Jerusalem to present him to the Lord 23 (as it is written in the Law of the Lord, "Every firstborn male is to be consecrated to the Lord"), 24 and to offer a sacrifice in keeping with what is said in the Law of the Lord: "a pair of doves or two young pigeons."

25 Now there was a man in Jerusalem called Simeon, who was righteous and devout. He was waiting for the consolation of Israel, and the Holy Spirit was on him. 26 It had been revealed to him by the Holy Spirit that he would not die before he had seen the Lord's Messiah. 27 Moved by the Spirit, he went into the temple courts. When the parents brought in the child Jesus to do for him what the custom of the Law required, 28 Simeon took him in his arms and praised God, saying:

29 "Sovereign Lord, as you have promised, you may now dismiss your servant in peace. 30 For my eyes have seen your salvation, 31 which you have prepared in the sight of all nations: 32 a light for revelation to the Gentiles, and the glory of your people Israel."
What are YOU waiting for?  Have you given up?  DON'T GIVE UP!
Proverbs 13:12 (NIV)

Hope deferred makes the heart sick, but a longing fulfilled is a tree of life. Your Father knows.  He gave you those desires!

Psalm 37:3-6 (NIV)

3Trust in the Lord and do good; dwell in the land and enjoy safe pasture.
4Take delight in the Lord, and he will give you the desires of your heart.

5Commit your way to the Lord; trust in him and he will do this:
6He will make your righteous reward shine like the dawn, your vindication like the noonday sun.

Philippians 3:12-14 (NIV)

12 "Not that I have already obtained all this, or have already arrived at my goal, but I press on to take hold of that for which Christ Jesus took hold of me.

13 Brothers and sisters, I do not consider myself yet to have taken hold of it. But one thing I do: Forgetting what is behind and straining toward what is ahead,

14 I press on toward the goal to win the prize for which God has called me heavenward in Christ Jesus."

Isaiah 43:16-21 (NIV)

16This is what the Lord says— he who made a way through the sea, a path through the mighty waters,
17 who drew out the chariots and horses, the army and reinforcements together, and they lay there, never to rise again, extinguished, snuffed out like a wick:
18 "Forget the former things; do not dwell on the past.
19 See, I am doing a new thing! Now it springs up; do you not perceive it? I am making a way in the wilderness and streams in the wasteland.
20 The wild animals honor me, the jackals and the owls, because I provide water in the wilderness and streams in the wasteland, to give drink to my people, my chosen,
21 the people I formed for myself that they may proclaim my praise.

Hebrews 11:1-6 (NIV)

1"Now faith is confidence in what we hope for and assurance about what we do not see. 2 This is what the ancients were commended for. 3 By faith we understand that the universe was formed at God's command, so that what is seen was not made out of what was visible.

4 By faith Abel brought God a better offering than Cain did. By faith he was commended as righteous, when God spoke well of his offerings. And by faith Abel still speaks, even though he is dead.

5 By faith Enoch was taken from this life, so that he did not experience death: "He could not be found, because God had taken him away." For before he was taken, he was commended as one who pleased God. 6 And without faith it is impossible to please God, because anyone who comes to him must believe that he exists and that he rewards those who earnestly seek him."
It's a FATHER who rewards.
The Father is attracted to anything done to honor/please Him.
The favor on your life is a part of what attracts people to Christ.
What are you willing to let go of from the past in order to grab hold of what God has for you in 2018?
Podcast: Play in new window | Download
---
Your Generosity Makes a Difference – Support the Vision of Restoration with 1 Click!
Are you a Frequent Listener to the Restoration Podcast? Say Hey!