December 24, 2017
Joseph's Story (Father Christmas, PT6)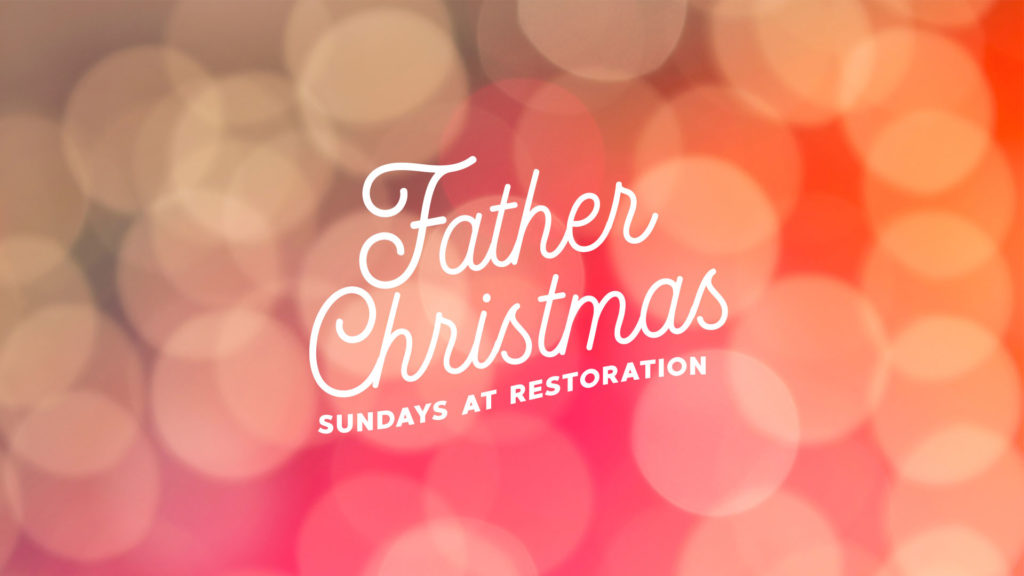 We began the Christmas story with Zachariah's visitation in the Temple.
A prophecy – thousands of years in the making.
A miracle for Zachariah and Elizabeth.
When did Zachariah get his voice back?  When he agreed with the plan of God.
Then came an angelic visitation to a young girl named Mary. So many aspects we could focus on – but today on the day before Christmas I want us to look at one of the unsung heroes of the story.
A man named Joseph.  Let's read the text from Matthew 1:18-25
18 This is how Jesus the Messiah was born. His mother, Mary, was engaged to be married to Joseph. But before the marriage took place, while she was still a virgin, she became pregnant through the power of the Holy Spirit. 19 Joseph, to whom she was engaged, was a righteous man and did not want to disgrace her publicly, so he decided to break the engagement quietly.

20 As he considered this, an angel of the Lord appeared to him in a dream. "Joseph, son of David," the angel said, "do not be afraid to take Mary as your wife. For the child within her was conceived by the Holy Spirit. 21 And she will have a son, and you are to name him Jesus, for he will save his people from their sins."

22 All of this occurred to fulfill the Lord's message through his prophet:

23 "Look! The virgin will conceive a child!
She will give birth to a son,
and they will call him Immanuel,
which means 'God is with us.'"

24 When Joseph woke up, he did as the angel of the Lord commanded and took Mary as his wife. 25 But he did not have sexual relations with her until her son was born. And Joseph named him Jesus.
No recorded words of Joseph in the Bible.  He's not even mentioned in the Gospel of Mark or most of the New Testament.
What attributes of the Father's heart do we glean from Joseph?
The geneology of Joseph, the earthly and legal Father of Jesus, is listed in Matthew 1:1-18. Genealogies were very important to the Jews and these verses demonstrate the lineage of Jesus Christ back to Abraham for all mankind to recognize another fulfillment of the many prophecies given about the Messiah.
Joseph was a direct of from David. Joseph had an identity connecting him to Abraham.  Identity comes from a person's sense of heritage.  Jesus was identified as JOSEPH'S son.  Do you see how huge that is. It wasn't Mary's lineage but JOSEPH'S.  Do you see why Joseph was such a big deal?  And a man who has no recorded words in Scripture.
It is clear that others recognized Joseph as the legal father of Jesus in verses such as John 1:45.
The Father's Heart revealed through Joseph.
Joseph was a just man who kept the laws of Judaism.
Skilled as a carpenter in the small town of Nazareth, Joseph probably spent much time teaching his son the trade as well as providing spiritual training. Jesus had a sense of work ethic and a trade and was capable of supporting himself prior to going into His ministry.  All because of Joseph.
Joseph observed the Holy Days and Hebrew Feasts with his family.
"Every year Jesus' parents went to Jerusalem for the Passover festival. When Jesus was twelve years old, they attended the festival as usual."
He was well respected and regarded as honorable and faithful.
We also know that through Joseph's sensitivity and obedience to God, he fulfilled the role of protector and guardian of Jesus.
Not only did he protect Mary from being stoned he cared for her on the long journey to Bethelem.  Even when they couldn't find a place for her to give birth he became resourceful.
After the birth of Jesus the angel spoke to Joseph again telling him to take the family and move to Egypt to protect the child from Herod.
And then when the danger had passed the angel appeared again and directed him to return to Israel.  God paid the bill!  BIG GIVE
Joseph carried out the role of 'father' admirably in every way.
What might this speak of the destiny and calling on OUR city?
Little detail of Joseph is given in the Gospels so because Jesus entrusted Mary to the care of John, it is speculated that Joseph may have died a natural death between their visit to the temple when Jesus was twelve (Luke 2:41-51) but before the Baptism of Jesus when He was thirty (Mark 1:9-11).
But his influence during those early years must have been incredible. When Jesus spoke of God as being like a loving Father, he could draw from his youth the kind of love he had known from Joseph. Joseph stands as a testimony to the value of integrity, obedience, faithfulness, and especially to honoring the entrusted role of "fatherhood."
Not taking anything away from Mary.  I just wanted you to see the Father's heart in the Christmas story.  May not be the warm fuzzy Christmas setting we typically hear on Christmas but I think what we see in the life of Joseph demonstrates the Father Heart of Christmas almost as well as any other example.
• Integrity
• Obedience
• Faithfulness
Zechariah named his son John.  Joseph named his son Jesus.  Both men obedient to the plan.  Mary said be it unto me according to your word.  We see an unmistakable pattern of those faithful to carry out the will of the Father no matter the cost.
I believe God is looking for men and women who will do the same – and participate in the miracle He wants to accomplish in the earth today.
Podcast: Play in new window | Download
---
Your Generosity Makes a Difference – Support the Vision of Restoration with 1 Click!
Are you a Frequent Listener to the Restoration Podcast? Say Hey!