January 7, 2018
Make Room for Your Mantle (Guest Speaker – Zach Doyle)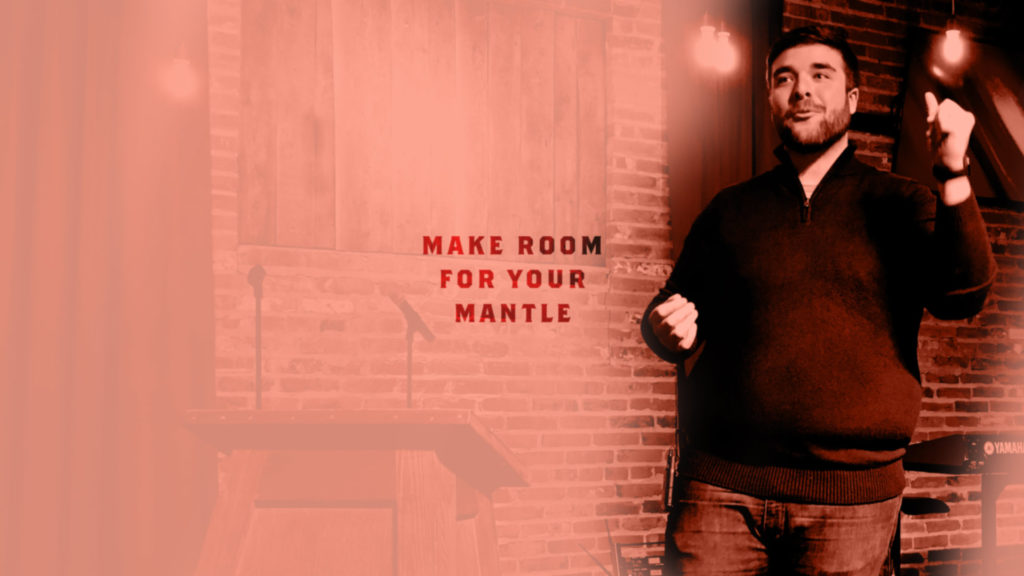 Make Room for the Mantle
I'm so excited and honored to kick off 2018 for Restoration. I have been praying and planning… and more praying… about this morning. I know this year has so much promise and anticipation not just for Restoration but for every heart in the house.
Naming Our Son
If you have spent five seconds talking to our family you know that my wife and I are expecting our first child this year… talk about new things in 2018! The journey has literally just started, but it has personally revealed a new lens for me to think about God… God the father…
Ever since August we have asked approximately 1 Billion questions. One of the biggest questions we have yet to answer is what is our son's name. Granted we have ideas, but we are still seeking, searching, praying for the perfect name for our son.
Names have so much power – they can define your heritage, your destiny, your inheritance. God has given me this opportunity to ask you a question – what name did your father give you? Who are you? We aren't necessarily talking your English name anymore. What is your heritage? What destiny has God promised you? What inheritance has your heavenly Father left for you?
Today's Purpose: Revealing God's Name for Us
My mission today is to remind or reveal the Heavenly Name your Father Gave you.
Your destiny – an eternal journey with the creator of the universe.
Your inheritance – dominion
Your heritage… this is the key – Royalty
God has invited me to reveal this truth – you are born to rule and reign! 2018 is your year to BREAK THROUGH into your heritage.
You have been adopted into a royal lineage leading back to David – a very unassuming king at first – the runt of the litter. Let's dive into 1 Samuel 16, when David was anointed king.
Podcast: Play in new window | Download
Read 1 Samuel 16 (ESV)
David Anointed King

1The Lord said to Samuel, "How long will you grieve over Saul, since I have rejected him from being king over Israel? Fill your horn with oil, and go. I will send you to Jesse the Bethlehemite, for I have provided for myself a king among his sons." 2 And Samuel said, "How can I go? If Saul hears it, he will kill me." And the Lord said, "Take a heifer with you and say, 'I have come to sacrifice to the Lord.' 3 And invite Jesse to the sacrifice, and I will show you what you shall do. And you shall anoint for me him whom I declare to you." 4 Samuel did what the Lord commanded and came to Bethlehem. The elders of the city came to meet him trembling and said, "Do you come peaceably?" 5 And he said, "Peaceably; I have come to sacrifice to the Lord. Consecrate yourselves, and come with me to the sacrifice." And he consecrated Jesse and his sons and invited them to the sacrifice.

6 When they came, he looked on Eliab and thought, "Surely the Lord's anointed is before him." 7 But the Lord said to Samuel, "Do not look on his appearance or on the height of his stature, because I have rejected him. For the Lord sees not as man sees: man looks on the outward appearance, but the Lord looks on the heart." 8 Then Jesse called Abinadab and made him pass before Samuel. And he said, "Neither has the Lord chosen this one." 9 Then Jesse made Shammah pass by. And he said, "Neither has the Lord chosen this one." 10 And Jesse made seven of his sons pass before Samuel. And Samuel said to Jesse, "The Lord has not chosen these." 11 Then Samuel said to Jesse, "Are all your sons here?" And he said, "There remains yet the youngest,[a] but behold, he is keeping the sheep." And Samuel said to Jesse, "Send and get him, for we will not sit down till he comes here." 12 And he sent and brought him in. Now he was ruddy and had beautiful eyes and was handsome. And the Lord said, "Arise, anoint him, for this is he." 13 Then Samuel took the horn of oil and anointed him in the midst of his brothers. And the Spirit of the Lord rushed upon David from that day forward. And Samuel rose up and went to Ramah.
Who Was David?
Up to that point, the biggest King-like thing David had done was defending sheep from lions and bears… pretty cool right? He could have retired right there – David… the Bear's Bane! The Lion Lyncher!
But God had just started David's journey towards his destiny. When David was anointed king it was a catalyst moment – he stepped out of normalcy into his destiny! We all know his journey still had many twists, including slaying a giant, dodging death dealt by the previous king, wars, etc…
But let's focus on this one moment – because that is the point we are all standing. God is asking you – are you ready to accept your new name?
How Far Will You Go to Meet Him? 
God has designed you for royalty, but what steps do we need to take to walk in our inheritance? What makes your blueprint different than the rest of creation? Free will. God is romantic – he doesn't want to ask for you devotion. He gives us, for better or worse, freedom to choose how we name ourselves
What if David didn't follow God's direction? His story would have been titled –
David: Defender of the fluffy flock, the bear's bane!
Instead, he listened to what God had named him –
David: Ruler and Warrior of God's Chosen People, forefather of the Messiah… WOW!
He designed us for freedom – freedom is our greatest ally and our most menacing foe. God doesn't require us to do anything to enter his Kingdom – but he's a gentleman. He waits for our step towards him – and he'll take you as deep as you are willing to go.
It's Time to Discover Your True Name
Just as we Prayerfully consider our son's name – realize that God spent eternity dreaming of exactly what to name you! That is so powerful, how could we not walk towards that destiny?
What's Stopping Us? Fighting Today's Secret War
Stop defending your faith – start advancing!

Personally Give up defending God against Science

The Mysteries of Our Father will never be revealed to mind of man
Your Faith will never make sense to world

You can't bring a gun to knife fight

Make this your cry: What good has God done in your life and what good can God do in theirs?

It's Time to speak and prophecy victory for every heart you encounter!
We've tried being ugly and it's confusing. Why would we want to use the same weapon Satan uses? God wants to build – so should we.
Make Distraction Public Enemy #1

What Distracts You from your father? Unfortunately it's the same traps that have been set for millennia.
Politics
Finances
Entertainment
Open the Door for God to Break Through
Next week is going to be a catalyst moment for our church! We have a very special gift in Rabbi Curt Landry coming to Restoration. This will be such a rare gift! It would break my heart to let Rabbi invest his time and effort into our body and we leave the room unaffected… unchanged.
So when I was planning my message I wanted to emphasize how amazing it is that we get a man like Rabbi with the mantle and the authority to speak into the house and into our lives.
As I was considering this and how I could use this time to prepare hearts for his arrival God spoke to me. How many times has God walked into this room and we didn't have our ears open? Rabbi has power and authority – and a mantle that very little of us could receive and walk under. But Rabbi only has what God gives – and God has a vision, power, authority and a mantle for every heart.
He's here – and he's waiting for us to open the door for breakthrough. Your destiny starts now!
---
Your Generosity Makes a Difference – Support the Vision of Restoration with 1 Click!
Are you a Frequent Listener to the Restoration Podcast? Say Hey!