June 4, 2017
This is What We Do – Stand United (Pt 3)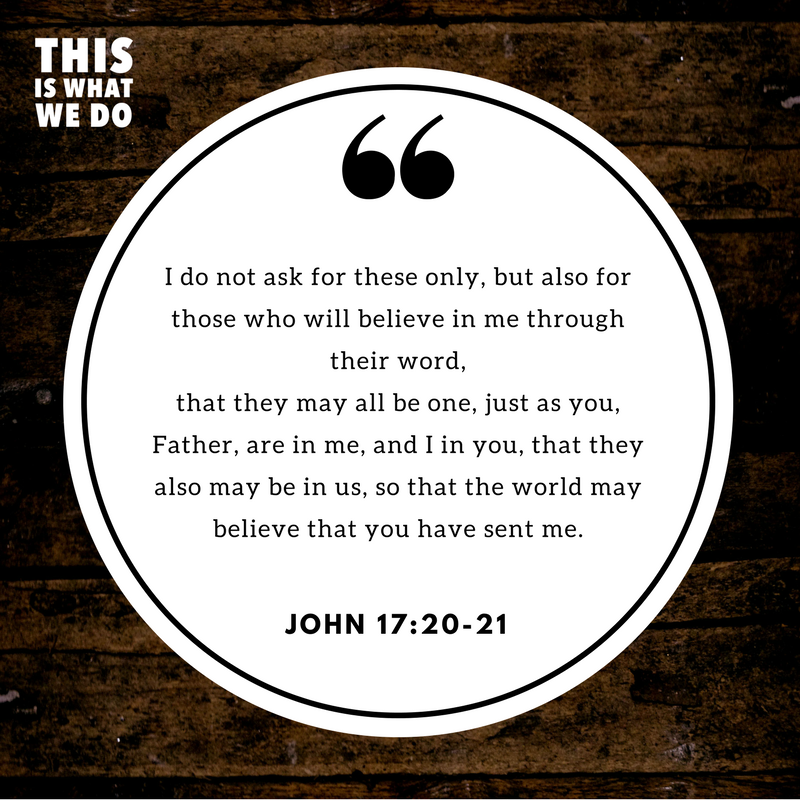 What does Unity in the church look like?
Let's read from John 17:20 – 23 (ESV)

"I do not ask for these only, but also for those who will believe in me through their word,

that they may all be one, just as you, Father, are in me, and I in you, that they also may be in us, so that the world may believe that you have sent me.

The glory that you have given me I have given to them, that they may be one even as we are one,

I in them and you in me, that they may become perfectly one, so that the world may know that you sent me and loved them even as you loved me.
What does Unity in the church look like? Let's look at the Great Commision in this context:
Acts 1:8

But you will receive power when the Holy Spirit has come upon you, and you will be my witnesses in Jerusalem and in all Judea and Samaria, and to the end of the earth."
Unity in the Home
It starts with Honor.
It is Maintained by discipleship.
It is Fulfilled through Restored Hearts
Unity with our Neighbors
1 Corinthians 12:12-14

For just as the body is one and has many members, and all the members of the body, though many, are one body, so it is with Christ.

For in one Spirit we were all baptized into one body—Jews or Greeks, slaves or free—and all were made to drink of one Spirit.

For the body does not consist of one member but of many.
Unity to the Ends of the Earth
One big goal while we breath on this earth is to transform the Earth for the better. When Jesus said in Acts 1:8 to the end of the Earth, he was empowering us in two ways: internationally and inter-generationally. I really want to emphasize this idea: God has equipped us to not only impact nations TODAY but to impact generations to come – to lay the foundation for tomorrow's generation to continue the mission.
Isaiah 54:13-14

All your children shall be taught by the Lord,

and great shall be the peace of your children.

In righteousness you shall be established;

you shall be far from oppression, for you shall not fear;

and from terror, for it shall not come near you.
Unity is an act of spiritual warfare.
The call of Restoration church is to reach the nations – to be an exporter and a resourcer for the Kingdom of Jesus; but to get to every nation, we first need to hit our knees at the feet of Jesus. We need to stand in unity as a church and we need to speak life into our neighbors.
Podcast: Play in new window | Download
---
Your Generosity Makes a Difference – Support the Vision of Restoration with 1 Click!
Are you a Frequent Listener to the Restoration Podcast? Say Hey!